Fiberglass filter bags are bags made from fiberglass fabric that are used to filter liquids, gases, or fumes in industrial and commercial processes. They are commonly used in a variety of industries, including chemical processing, pharmaceutical manufacturing, food and beverage production, and power generation.
Fiberglass filter bags are made from a woven or non-woven fabric that is coated with a resin to make it resistant to heat, chemicals, and other environmental factors. The fibers in the fabric are extremely fine, which allows them to effectively filter out contaminants, such as dust, particles, and liquid droplets, from the air or liquid being processed.
Parameters are shown in the following chart:
| | |
| --- | --- |
| Type | Fiberglass Filtration Pouch/bag For Aluminum |
| Work Temperature | ≤1000℃ |
| Melting Point | 1100℃ |
| Color | White, Brown and Yellow |
| Specifications | 5mesh, 7mesh, 8mesh, 9mesh, 10mesh, 12mesh, 14mesh, 16mesh, 18mesh, 20mesh, 25mesh, and special specifications can be customized. |
| Application | Filter molten aluminum and aluminium alloy in molds, Distribute evenly molten aluminum in molds. |
| Work Time: | 150minutes. |
| Tensile Strength | 8Kgs |
| OEM | Logo, Size and Shape of fiberglass filter bag, according to customer's requirement, and also drawing or samples. |
| Certificate | ISO9001:2015 |
Fiberglass Filter Bag Functions:

1. Helps to reduce the turbulence of metal flow and improve the temperature distribution throughout the mold volume.
2. Filter the molten metal and decrease in non-metallic inclusions and oxide films in the liquid metal.
3. Comparing to other filter bags, it does not affect the component of aluminum alloy, and with good filtration effect, high temperature resistance, high strength, excellent acid and alkali resistance, non-stick aluminum, non-slagging, non-peeling, as well as easy installation.
4. Fiberglass mesh filter improves mechanical quality of aluminum casting product.
5. Improve the hardness of aluminum casting product with more average surface hard and bending strength.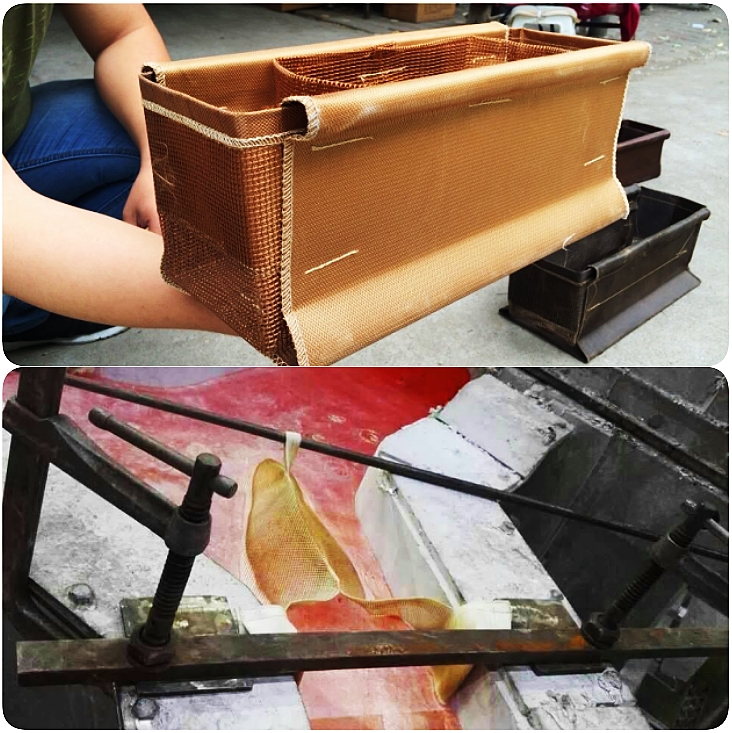 Fiberglass Filter Bags Main Functions:
● Filter molten aluminum in molds.
● Distribute evenly molten aluminum in molds.
Advantages To Using Fiberglass Filter Bags:
They are durable and can withstand high temperatures, making them suitable for use in high-temperature processes.
They also have a high dirt retention capacity, which means they can filter a large number of contaminants before they need to be replaced.
Additionally, fiberglass filter bags are resistant to most chemicals and are easy to clean, which makes them suitable for use in a wide range of applications.
Overall, fiberglass filter bags are an effective and efficient way to filter liquids, gases, or fumes in industrial and commercial processes.
If you want to customize foundry filtration products for your own brands or purchase for your projects, please contact us here.