Fiberglass Filtration & Shunt Combo bag is weaved by fiberglass yarn and through special process, its withstand temperature up to 1000 °C.
Application:

Apply to filter and evenly distribute molten aluminum in molds.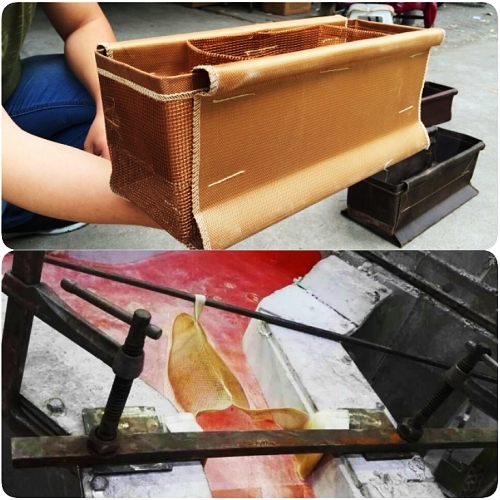 Functions:
1. Helps to reduce the turbulence of metal flow and improve the temperature distribution throughout the mold volume.
2. Filter the molten metal and decrease in non-metallic inclusions and oxide films in the liquid metal.
3. Comparing to other filter bags, it does not affect the component of aluminum alloy, and with good filtration effect, high temperature resistance, high strength, excellent acid and alkali resistance, non-stick aluminum, non-slagging, non-peeling, as well as easy installation.
4. Improve mechanical quality of aluminum casting product.
5. Improve the hardness of aluminum casting product with more average surface hard and bending strength.
| | |
| --- | --- |
| Type | Fiberglass Filtration Pouch/bag For Aluminum |
| Work Temperature | ≤1000℃ |
| Melting Point | 1100℃ |
| Color | White, Brown and Yellow |
| Normal Dimensions | 120x150x300mm, 120x150x330mm, 140x150x450mm, others can be customized. |
| Mesh Openning | 5mesh, 7mesh, 8mesh, 9mesh, 10mesh, 12mesh, 14mesh, 16mesh, 18mesh, 20mesh, 25mesh, and special specifications can be customized. |
| Application | All Aluminium and aluminium alloy products. |
| Work Time: | 150minutes. |
| Tensile Strength | 8Kgs |
| OEM | Logo, Size and Shape of fiberglass filter bag, according to customer's requirement, and also drawing or samples. |
| Certificate | ISO9001:2015 |
We can customize the shunt combo/channel bags for you only according to your drawings or samples, if interested, please contact us or leave a message, we will offer you quotation as soon as we receive it.