Fiberglass Filtration & Shunt Combo bag is weaved by fiberglass yarn and through special process, its withstand temperature up to 1000 °C.
More details:

Technical Data Sheet:
Type
Fiberglass Filtration & Shunt Combo Bag For Aluminum
Work Temperature
≤1000℃
Melting Point
1100℃
Color
White, Brown and Yellow
Normal Dimensions
120x150x300mm, 120x150x330mm, 140x150x450mm,
Mesh Openning
5mesh, 7mesh, 8mesh, 9mesh, 10mesh, 12mesh, 14mesh, 16mesh, 18mesh, 20mesh, 25mesh, and special specifications can be customized.
Application
Filtration & Shunt For All Aluminium and aluminium alloy products.
Work Time:
4hours when flow ≤10 kg/min.
1.5hours when flow ≤120 kg/min.
Tensile Strength
8Kgs
OEM
Logo, Size and Shape of fiberglass filter bag, according to customer's requirement, and also drawing or samples.
Certificate
ISO9001:2015
Application:

● Apply to filter and evenly distribute molten aluminum in molds.
● Used in sand casting, permanent mold, shell mold, draw mold and investment casting, which can remove impurities, reduce turbulence, eliminate air bubbles, thereby improve casting quality and reduce production costs.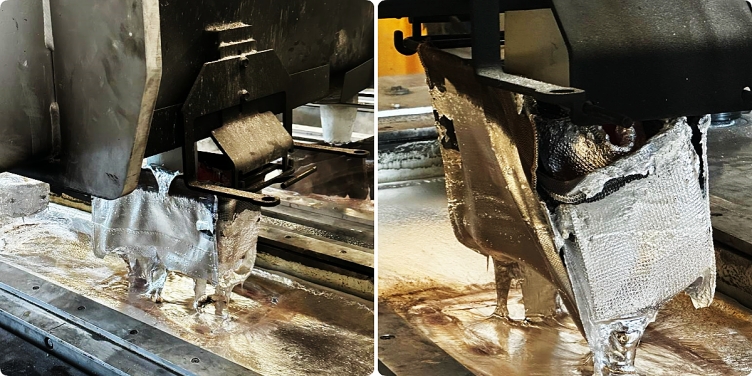 Functions:

1. Helps to reduce the turbulence of metal flow and improve the temperature distribution throughout the mold volume.
2. Filter the molten metal and decrease in non-metallic inclusions and oxide films in the liquid metal.
3. Comparing to other filter bags, it does not affect the component of aluminum alloy, and with good filtration effect, high temperature resistance, high strength, excellent acid and alkali resistance, non-stick aluminum, non-slagging, non-peeling, as well as easy installation.
4. Improve mechanical quality of aluminum casting product.
5. Improve the hardness of aluminum casting product with more average surface hard and bending strength.
The Benefit of Usage of Fiberglass Filtration Shunt Combo Bag:

● The bag can withstand the liquid temperature of 700℃, it can be used continuously for 4 hours when the flow is not more than 10 kg/min, for 1.5 hours continuously when not more than 120 kg/min.
● It can ensure the removal of oxides or other debris suspended in the volume, remove the harmful impurities such as bubbles, ash oxides, and various inclusions in aluminum molten liquid, greatly improve the yield of aluminum castings, improve the quality of aluminum products, and avoid the problem of other metal components into aluminum solution, does not affect the composition of aluminum alloy, to ensure the quality of aluminum castings.
● It can also improve the mechanical properties of aluminum castings, can increase the hardness of the castings, and the surface hardness is uniform and improve the bending strength of the castings. In this way, the manufacturer can produce terminal products with assured quality.
● At the same time, the shunt bag does not pollute the liquid aluminum, does not affect the chemical properties of the metal, and the aluminium liquid can be directly remelt, thus the cost can be reduced greatly.
● It is the ideal filtration material in the process of aluminum metal smelting.
Bags Compared before and after use: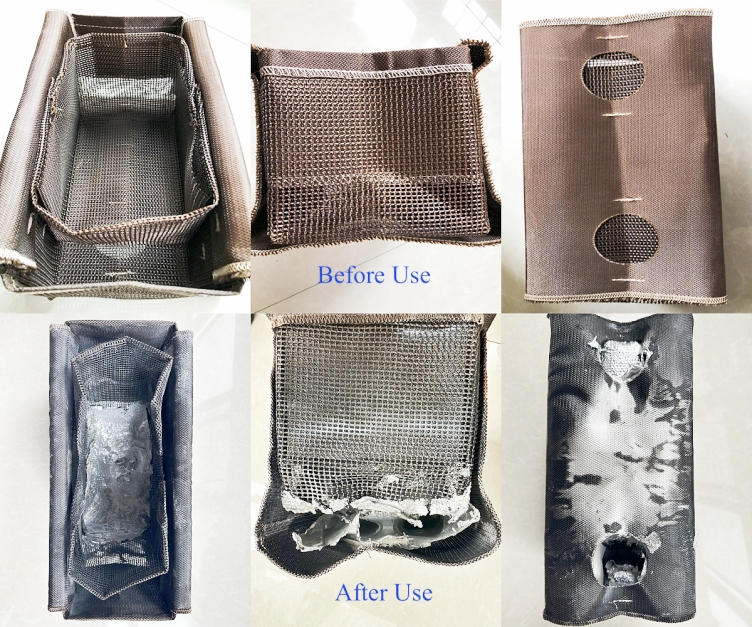 We can customize the shunt combo/channel bags for you only according to your drawings or samples, if interested, please contact us or leave a message, we will offer you quotation as soon as we receive it.