Fiberglass filtration mesh is an ideal filter material for various metal melts.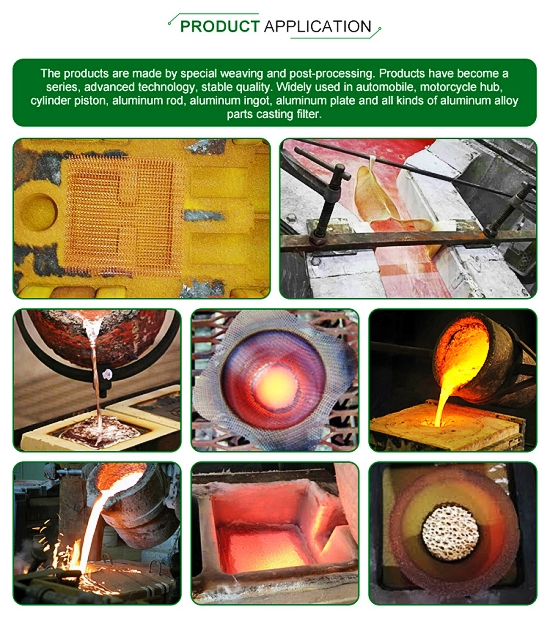 Compared with other types of filters, fiberglass casting filter is cheap, easy to use, does not change the metal composition of the casting, has good slag filtering effect and low gas generation.
In addition, it also has high temperature resistance, ablation resistance, good chemical stability, resistance to metal melt erosion and good steel strength.
The application range is of aluminum, aluminum ingots, aluminum plates and aluminum alloy parts and other precision casting filtration. It can effectively remove bubbles, slag inclusions, etc. in the aluminum liquid, greatly improve product quality. So, it is an economical material for filtering aluminum alloys.
Features and Functions:
● Carbonized by High Temperature
● Coated with special resin
● Smokeless & Odorless & Flameless
● Effectively remove impurities, reduce turbulence and eliminate air bubbles from molten aluminium
● Improving the quality of castings and reducing costs
● The aluminium filtered by this mesh can be recycled again
● It is environment-friendly products
● All shapes can be customized according to clients' requirements
Position of Fiberglass Filter Mesh:
● Place the filter under the sprue cup;
● Placed on the parting surface under the sprue;
● Three different positions on the lap surface of the runner.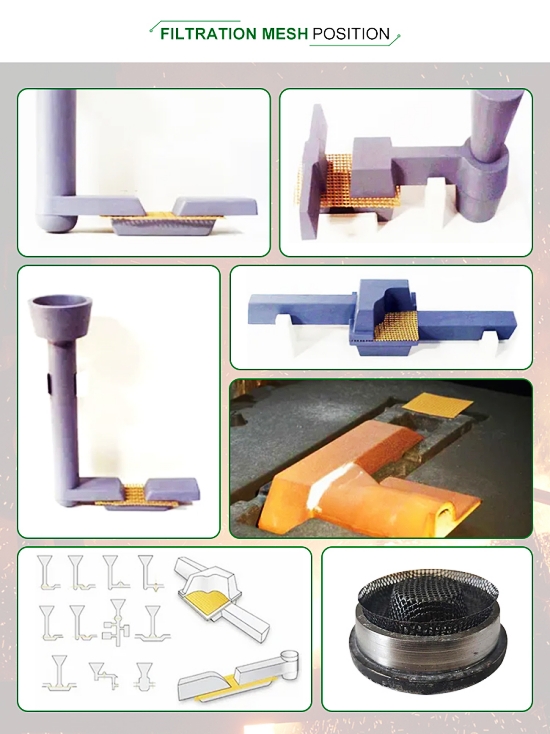 | | |
| --- | --- |
| Type | Alkali-free Fiberglass filtration mesh for aluminum |
| Work Temperature | 700-800℃ |
| Softening Temperature | 900℃ |
| Continuous Working Hours | <20Min.(700-800℃) |
| Gas Emit | ≤30cm 3/g |
| Thickness | 0.5mm |
| Weight | 150-350 g/m2 |
| Hole Size | 0.8*0.8/1.0*1.0/1.2*1.2/1.5*1.5/2.0*2.0/2.5*2.5mm |
| Weave Pattern | Leno |
| Certificate | ISO9001:2015 |