Widely used in automobile and motorcycle wheels, cylinder pistons, aluminum rods, aluminum materials, aluminum ingots, aluminum plates and precision casting of all types of aluminum alloy casting.
Effectively remove impurities, reduce turbulence and eliminate air bubbles, thereby improving the quality of castings and reducing costs. At the same time does not pollute the aluminum liquid and affect the chemical properties of the metal. Therefore, aluminum waste containing the filter mesh, aluminum liquid from sprue and the riser can be directly returned to the furnace for remelting, greatly reducing costs.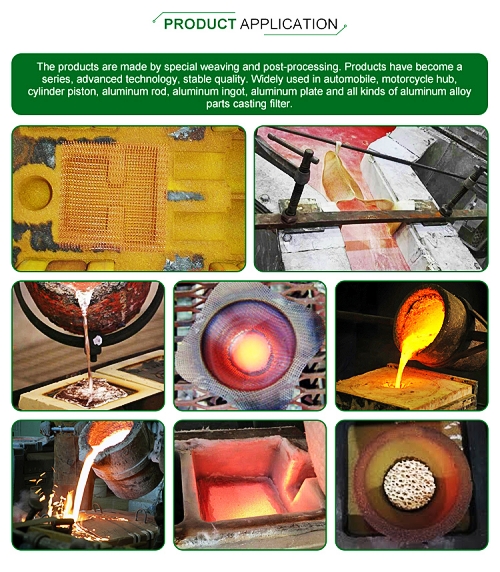 Functions:
1. Low cost and easy to use
2. Improves fluidity and metal distribution
3. Removes micron sized inclusions and impurities
4. Can be used with existing pattern equipment
5. Reduce turbulence
6. Minimize gating system to reduce cost
New patented product "smokeless and odorless filter mesh" will gradually replaces similar products to removal of non-metallic inclusion in metal melt is of great technical and economic value to improve the yield of castings and the quality of castings.
| | |
| --- | --- |
| Type | Alkali-free Fiberglass filtration mesh for aluminum |
| Work Temperature | 700-800℃ |
| Softening Temperature | 900℃ |
| Continuous Working Hours | <20Min.(700-800℃) |
| Gas Emit | ≤30cm 3/g |
| Thickness | 0.5mm |
| Weight | 150-350 g/m2 |
| Hole Size | 0.8*0.8/1.0*1.0/1.2*1.2/1.5*1.5/2.0*2.0/2.5*2.5mm |
| Weave Pattern | Leno |
| Certificate | ISO9001:2015 |
Key Points of Usage:
1. Use area of filter net: F1 = F2 / AxB
● F1: the cross-sectional area of the casting system.
● F2: the original cross-sectional area of the casting system.
● A: the porosity of the filter screen, generally 50-60%.
● B: the filtration rate of filter screen, generally 60-80%.
Therefore, the cross-sectional area of the casting system is generally 2-4 times that of the casting system without the casting net.
2. Position of filter screen:

● Place the filter under the sprue cup;
● Placed on the parting surface under the sprue;
● Three different positions on the lap surface of the runner.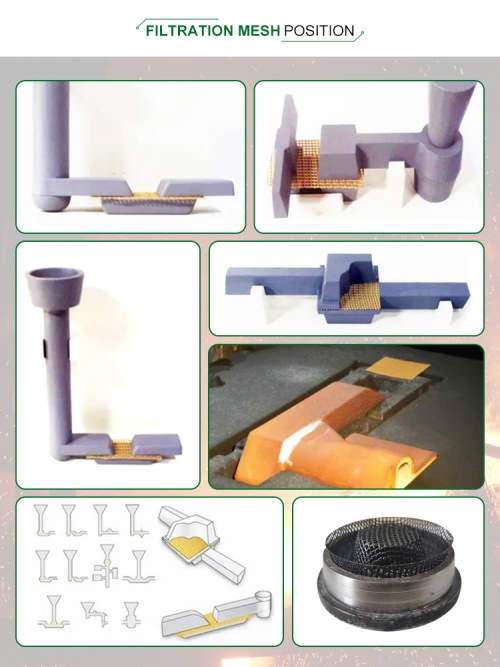 Features and Functions:
● Carbonized by High Temperature
● Coated with special resin
● Smokeless & Odorless & Flameless
● Effectively remove impurities, reduce turbulence and eliminate air bubbles from molten aluminium
● Improving the quality of castings and reducing costs
● The aluminium filtered by this mesh can be recycled again
● It is environment-friendly products
● All shapes can be customized according to clients' requirements