Cap Filter Mesh, also known as Mesh filter cap, are widely used in all walks of life and are commonly used as components in the filtration process. It is widely used in automobile and motorcycle wheels, cylinder pistons, aluminum rods, aluminum materials, aluminum ingots, aluminum plates and precision casting of all types of aluminum alloy casting.The structure of the covered mesh cap is simple, economical and practical, and the data such as filtration accuracy, size, appearance and shape can be adjusted as needed.
Cap Filter Mesh can effectively remove impurities, reduce turbulence and eliminate air bubbles, thereby improving the quality of castings and reducing costs. At the same time does not pollute the aluminum liquid and affect the chemical properties of the metal. Therefore, aluminum waste containing the filter mesh, aluminum liquid from sprue and the riser can be directly returned to the furnace for remelting, greatly reducing costs.
Cangchen can provide you with customized services and recommendations according to your needs. If you need Cap Filter Mesh, just click the button below.
Cap Filter Mesh Features and Functions:
● Carbonized by High Temperature.
● Coated with special resin.
● Smokeless & Odorless & Flameless.
● With one or two staple or not, up to clients' need.
● Effectively remove impurities, reduce turbulence and eliminate air bubbles from molten aluminium.
● Improving the quality of castings and reducing costs.
● The aluminium filtered by this mesh can be recycled again.
● It is environment-friendly products.
● All shapes can be customized according to clients' requirements.
To use the fiberglass mesh filter to replace the traditional wire mesh filter and realize fiberglass aluminium filtration:
Never change molten aluminum element or contaminate molten aluminum.

No worry about the riser remelt anymore and easy to handle the aluminum scrap recycling.

Fiberglass mesh can float on top of molten aluminum in furnace being remelt and recycled and it can be more easily scooped out.

Reduces molten aluminum turbulence and improves distribution and flow.

Remove oxides and inclusions to improve castings mechanical properties and surface finish.

Excellent stiffness and toughness, good heat resistance.

About Cap Filter Mesh customization:
Materials: Fiberglass
Shapes: The shapes of filter screen products are: rectangle, square, circle, ellipse, ring, rectangle, hat, waist, and special-shaped.
Types: single-layer, double-layer, and multi-layer.
Produce process: The different shapes of the filter mesh, and the technology is also different.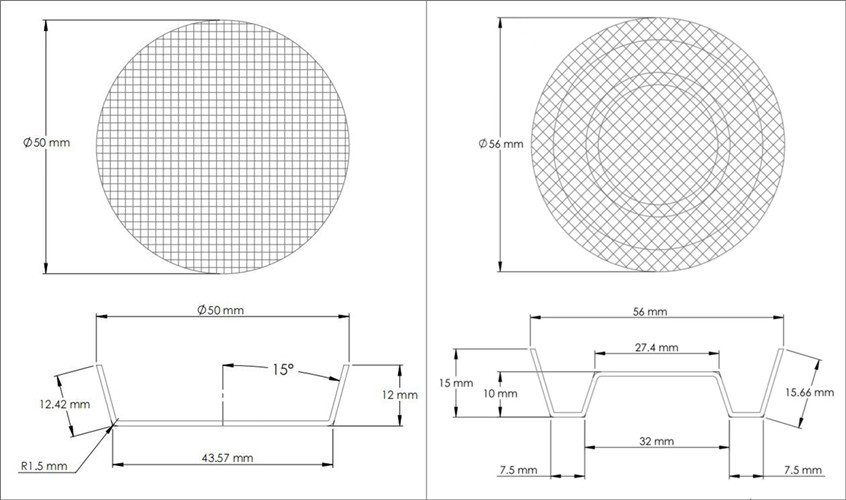 Cap Filter Mesh with staples

Cap Filter Mesh of different shapes

| | |
| --- | --- |
| Type | Fiberglass filtration Mesh Cap for aluminum |
| Work Temperature | 700-800℃ |
| Softening Temperature | 900℃ |
| Continuous Working Hours | <20Min.(700-800℃) |
| Gas Emit | ≤30cm 3/g |
| Thickness | 0.5mm |
| Weight | 150-350 g/m2 |
| Hole Size | 0.8*0.8/1.0*1.0/1.2*1.2/1.5*1.5/2.0*2.0/2.5*2.5mm |
| Weave Pattern | Leno |
| Certificate | ISO9001:2015 |
Cangchen is a professional foundry filtration products manufacturer who focuses on production, sales, service and solutions. If you want to know more about our Cap Filter Mesh price, we are online 24 hours a day and welcome your consultation.

FAQ Guide to Cap Filter Mesh
1.How is the cap filter mesh made?
The cap filter mesh is made of high-silica fiber mesh cloth and frosted mesh cloth as the basic material. It is a mesh with a certain degree of rigidity made by coating the surface with high temperature-resistant paint. The fiber filter for cast aluminum is generally made of alkali-free mesh. Fiber filters for cast iron and cast steel are generally made of high-silica glass fiber mesh.
2.How to use a cap filter mesh?
Cap filter is often used to form cavities for castings that are complex or difficult to form. It can be used for investment casting. You can use it for automobiles, motorcycle wheels, cylinders, pistons, aluminum rods, aluminum materials, aluminum ingots, aluminum plates, and various aluminum alloy parts. In addition to being an ideal filter material for various metal melts, it can also be used for the filtration of chemical corrosive liquids and high-temperature gases.
3.What are the advantages of the cap filter mesh?
The cap filter mesh can effectively remove harmful impurities in the metal melt and improve the casting mechanical properties. It can improve the graphite morphology in the casting and change the casting machinability.
4.What are the types of casting filters mesh?
The casting filters types include molten aluminum filters, molten iron filters, molten steel filters, etc. According to materials, it can be divided into special fiber filters for casting, ceramic foam casting filters, and honeycomb ceramic casting filters.
5.What are the types of fiber filters for casting?
Fiber filters for casting can be divided into fiber filters for molten steel, molten iron, and molten aluminum according to the use. According to different shapes, it is divided into flake, round, spherical, cap, cylindrical filter and so on. According to different materials, it can be divided into the alkali-free mesh, medium-alkali mesh, high-silica mesh, and other filters.
6.Can the cap filter mesh withstand high temperatures?
Different materials have different temperature resistance. The cap filter mesh can generally withstand instantaneous high temperatures of more than 1000 degrees.
7.What is the mesh size of the cap filter mesh?
It can be divided into 0.8mm, 1.0mm, 1.5mm, 2.0mm, and 2.5mm according to the mesh size.
8.Can the cap filter be cut?
The mesh can be cut into any size shape with scissors. You can place it under the pouring cup, on the overlapping surface of the runner, the runner and the sprue overlap surface, and press the box tightly.