Mar. 02, 2023
Fiberglass Filtration & Shunt Combo bag is weaved by fiberglass yarn and through special process, its withstand temperature up to 1000 °C. Adopt Advanced production equipment, warp and weft standard for base cloth, high temperature resistant coating mesh uniform, the finished product is exquisitely made without burrs. Both sides of the bag adopt square hole fixing device technology, more convenient operation and improve the working rate.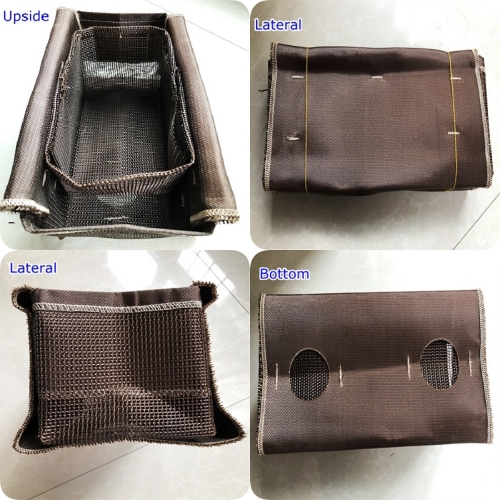 Application
Apply to filter and evenly distribute molten aluminum in molds.
The Benefit
● Fiberglass Filtration Shunt Combo Bag is used in sand casting, permanent mold, shell mold, draw mold and investment casting, which can remove impurities, reduce turbulence, eliminate air bubbles, thereby improve casting quality and reduce production costs.
● At the same time, the shunt bag does not pollute the liquid aluminum, does not affect the chemical properties of the metal, and the aluminium liquid can be directly remelt, thus the cost can be reduced greatly.
● The bag can withstand the liquid temperature of 700℃, it can be used continuously for 4 hours when the flow is not more than 10 kg/min, for 1.5 hours continuously when not more than 120 kg/min.
● It can ensure the removal of oxides or other debris suspended in the volume, remove the harmful impurities such as bubbles, ash oxides, and various inclusions in aluminum molten liquid, greatly improve the yield of aluminum castings, improve the quality of aluminum products, and avoid the problem of other metal components into aluminum solution, does not affect the composition of aluminum alloy, to ensure the quality of aluminum castings.
● This bag can also improve the mechanical properties of aluminum castings, can increase the hardness of the castings, and the surface hardness is uniform and improve the bending strength of the castings. In this way, the manufacturer can produce terminal products with assured quality.
● Compared with other kinds of filters, Fiberglass Filtration Shunt Combo Bag has the advantages of low price, convenient use, no change of metal composition, good filter slag and low gas output. Shunt bags can withstand higher temperature and more suitable for high temperature precision casting production.
● It is the ideal filtration material in the process of aluminum metal smelting.