Nov. 19, 2022
Ceramic foam filter is just developed as a new type molten metal filters to decrease casting flaw and also as a catalyst carrier for Air Treatment in recent years, play a vital role in the metal casting and air treatment, where they are used to filter out impurities in molten metal to improve the quality and performance of the end product or decompose organic pollutants into pollution-free water (H2O) and carbon dioxide (CO2) to meet high environmental requirements.
We, Hebei Cangchen, a professional foundry filtration products manufacturer who focuses on the production, sales, service and solutions. We are the recognized leader in the development and production of casting filters at home and abroad, and possesses the excellent innovation capabilities in filter manufacturing technology.
Main products include all kinds of high silica fiberglass filter mesh, smokeless & odorless high temperature carbonized fiberglass filtration mesh, fiberglass filter Combo bag and other heteromorphic filter mesh, ceramic foam filters including SIC, Alumina, Zironia and Honeycomb extruded ceramic filter.
Production Process Of Ceramic Filters:
There are imported advanced and professional manufacturing equipments and excellent technical team who have many years experience in this field, and who are quite familiar with a set of complex product procedures for such ceramic foam filters:
● Cut Sponge
● Batch Sizing Agent
● Steep Sponge
● Squeeze Out Sizing Agent
● Dry Material
● Kiln
● Cooling
● Drawing
● Quality Inspection
● Packing
Today, Two containers of ceramic foam filters are delivered to our foreign client after strict inspections.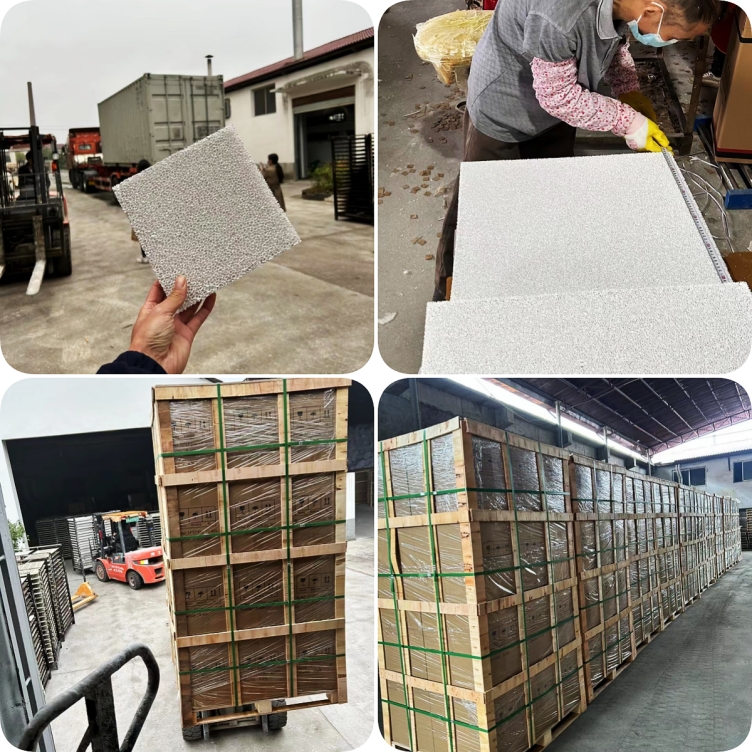 Do you need any type of ceramic filters? Please contact us, we are at your service at all times.