As one of the leading filter cloth suppliers and filter cloth manufacturers, Cangchen has developed this innovative aluminium filter fabric to meet the highest industry standards. Aluminium Filtration Fiberglass Fabric by Cangchen is a top-tier solution for all your filtration needs. Our product combines the exceptional filtering properties of fiberglass filter cloth with the enhanced durability and versatility of aluminum filter material. Engineered with precision, this fabric offers superior filtration performance, making it ideal for a wide range of applications.
Aluminium Filtration Fiberglass Fabric is woven with special high-twist & high-strength alkali-free fiberglass and special post-treatment. The maximum temperature resistance can reach 900 ℃.
New patented product "smokeless and odorless filter mesh" will gradually replaces similar products to removal of non-metallic inclusion in metal melt is of great technical and economic value to improve the yield of castings and the quality of castings.
| | |
| --- | --- |
| Type | Alkali-free Fiberglass filtration mesh for aluminum |
| Work Temperature | 700-800℃ |
| Softening Temperature | 900℃ |
| Continuous Working Hours | <20Min.(700-800℃) |
| Gas Emit | ≤30cm 3/g |
| Thickness | 0.5mm |
| Weight | 150-350 g/m2 |
| Hole Size | 0.8*0.8/1.0*1.0/1.2*1.2/1.5*1.5/2.0*2.0/2.5*2.5mm |
| Weave Pattern | Leno |
| Certificate | ISO9001:2015 |
Aluminium Filtration Fiberglass Fabric is widely used in automobile and motorcycle wheels, cylinder pistons, aluminum rods, aluminum materials, aluminum ingots, aluminum plates and precision casting of all types of aluminum alloy casting.
Effectively remove impurities, reduce turbulence and eliminate air bubbles, thereby improving the quality of castings and reducing costs.
At the same time does not pollute the aluminum liquid and affect the chemical properties of the metal. Therefore, aluminum waste containing the filter mesh, aluminum liquid from sprue and the riser can be directly returned to the furnace for remelting, greatly reducing costs.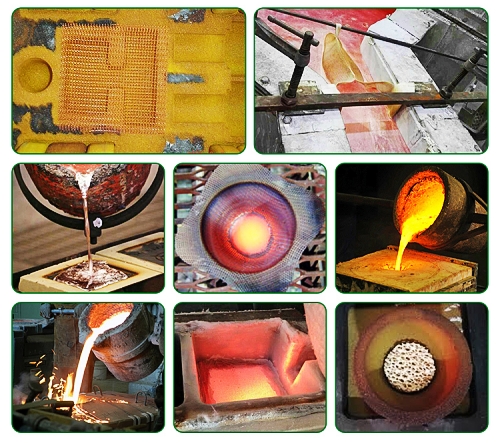 Aluminium Filtration Fiberglass Fabric Functions:
1. Low cost and easy to use
2. Improves fluidity and metal distribution
3. Removes micron sized inclusions and impurities
4. Can be used with existing pattern equipment
5. Reduce turbulence
6. Minimize gating system to reduce cost
Aluminium Filtration Fiberglass Fabric Key Points of Usage:
1. Use area of filter net: F1 = F2 / AxB
● F1: the cross-sectional area of the casting system.
● F2: the original cross-sectional area of the casting system.
● A: the porosity of the filter screen, generally 50-60%.
● B: the filtration rate of filter screen, generally 60-80%.
Therefore, the cross-sectional area of the casting system is generally 2-4 times that of the casting system without the casting net.
2. Position of filter screen:

● Place the filter under the sprue cup;
● Placed on the parting surface under the sprue;
● Three different positions on the lap surface of the runner.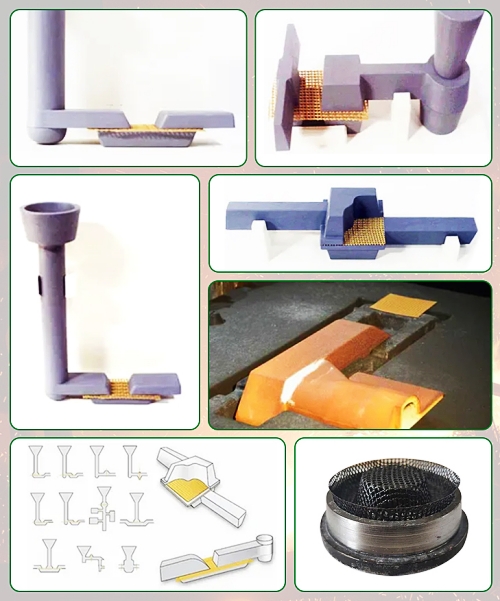 Crafted from premium-quality fiberglass, our filtration fabric is woven with utmost care to ensure excellent strength and durability. This ensures that our aluminium filter fabric can withstand rigorous operating conditions while providing efficient filtration results. The incorporation of aluminum fabric adds further stability and longevity to the product, allowing for prolonged usage without compromising on performance.
The aluminium filter mesh integrated into the fabric enhances the filtering capabilities, enabling the efficient removal of contaminants, dust, and particles from air or liquid streams. Its fine mesh structure ensures a high capture efficiency, ensuring that your filtration process is thorough and reliable. Whether you need to filter air in HVAC systems, purify water, or enhance industrial processes, our aluminium filtration fabric is up to the task.
In addition to its exceptional filtering properties, our fibreglass filters also boast excellent chemical resistance, making them suitable for use in demanding environments. The fabric's resistance to corrosion and chemicals ensures that it remains effective and reliable even when exposed to harsh substances.
Cangchen's Aluminium Filtration Fiberglass Fabric offers a cost-effective solution that saves both time and money. Its long lifespan and low maintenance requirements make it a wise investment for businesses seeking quality and efficiency.
Choose Cangchen as your trusted supplier of aluminium filter fabric, and experience the superior performance and reliability of our products. Contact us today to discuss your specific filtration requirements and let our team of experts assist you in finding the perfect solution for your needs.